LOTOS Plasma Cutters >

2013 Lotos Pilot Arc Dual Voltage 50Amps Plasma Cutter Lotos LTP5000D



| | |
| --- | --- |
| Orig. Price: | $799.00 |
| Sale Price: | $529.00 |
| Availability: | OUT OF STOCK |
| Prod. Code: | N102 |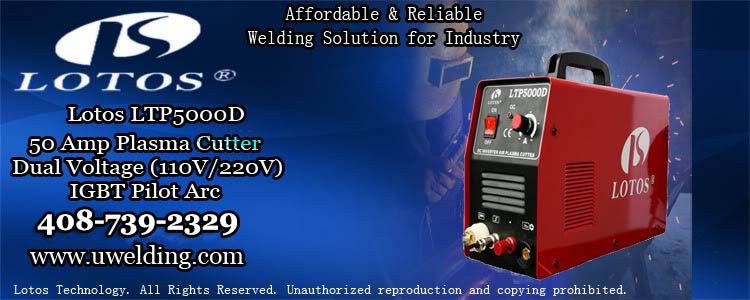 Make:

LOTOS

Year:

2013

Model:

LTP5000D (5th Generation with improved HF board) The cover of the machine is red.

Type:

50 Amp Digital Inverter Plasma Cutter

Condition:

BRAND NEW

(In Sealed Factory Box)

Status:

IN STOCK

(Ships in 2 Business Days)

Features:

50 Amp Digital Inverter Air Plasma Cutter
Automatic Dual Voltage / Dual Frequency (110/220V 50/60Hz)
Robust Infineon (By Siemens) IGBT Power Drive Matrix
with Pilot arc Function integrated.
PAPST Advanced German Cooling System
Max Severance Thickness: 3/4"
Max Cut Thickness: 1/2"

Accessories:

Warranty:

1 Year (Parts and Labor) Extra 3 years warranty is available to purchase while checking out.

Since 2000 Lotos

operated by Zion International Inc introduced inverter technology in welding and cutting machines. Lotos' latest high frequency inverter technology utilizes V-MOSFETs along with PWM (Pulse Width Modulation) to deliver a far more constant, concentrated and precise current to the cutting surface. This technology has been substantially reduced in size and weight of Inverter Plasma Cutters. It helps you to easily achieve smooth, clean cuts of wide range of surfaces and material (e.g. stainless steel, alloy steel, brass, aluminum and other conductive material) with minimal heat input and without distortion of metal. Lotos plasma cutters are designed especially for those DIY (do-it-yourself) users, while fully accommodating the demands of professional operators.

What is the difference between the Lotos LTP5000D and the Lotos LT5000D (or Cut50D)?

The Lotos LTP5000D uses the IGBT technology which is more reliable and robust than Mosfet technology present in the LT5000D. Also, the LTP5000D is a pilot arc plasma cutter which is a good feature for customers who need to cut rusty material (In a pilot arc torch, when you press the trigger of the torch, the machine will automatically strike an arc, you don't need to remove the rust before cutting. For contact arc cutters, like the LT5000D, all the rust must be cleaned off in order to cut the rusty material. In addition, in cases where the torch cannot touch the metal, such as the corner piece of a metal frame, you will need to use a pilot arc cutter as a contact arc (asthe name implies) requires contact. 90% of all our business customers have purchased the LTP5000D over the LT5000D.
Accessories (Click to view FULL size image)
The production process for Lotos

operated by Zion International Inc products is among the most stringent in the world and meets or exceeds some of the industry's most rigid standards. Our studies show that it is in fact among one of the best in the industry and is unrivaled by other would-be competitors. The quality of each of the integrated components is constantly monitored during the course of production. Only components and materials that meet the highest industry standards for quality are permitted to be incorporated into LOTOS products. Finally, upon conclusion of production, each unit is put through a newly devised, far more rigorous 30 point testing and quality inspection routine. This process is critical to ensuring a product that is not only safe, but reliable in both performance and durability.

Cut at 12 Times the Speed of Sound

Plasma cutting is a process that is used to cut steel and other metals using a plasma torch. In this process, an inert gas (compressed air) is blown at high speed out of a nozzle; at the same time an electrical arc is formed through that gas from the nozzle to the surface that is being cut, turning some of that gas to plasma. The plasma is sufficiently hot to melt the metal being cut and moves sufficiently fast to blow molten metal away from the cut. The plasma, which is maintained between the work-piece and electrode, travels at over 9000 MILES PER HOUR (15,000 km/Handle). That's over twelve times the speed of sound.

Advantage of Plasma vs. Oxy-Fuel Torch

Plasma does not use expensive, hazardous gases, only compressed air. It imparts much less heat into the piece being cut, eliminating warping. It does not require ignition. It leaves little to no slag to clean up or grind off. The cost per cutting hour can be less than oxy-fuel since there is no gas cost. It is also much quicker and easier. So, you cut better, faster and inexpensively.

Skill and Training

There is not a lot of skill or training required to operate a

plasma cutter

. The torch should remain at a 90-degree angle. With the Lotos LT5000D you can keep a standoff or drag the tip of the torch on the meta

l

.
ADVANCED INVERTER TECHNOLOGY

The LTP5000D inverter rectifies the input voltage (110/220VAC) into DC (Direct Current), which is then fed into a series of IGBTs. LOTOS LTP5000D utilizes the most advanced Infineon (By Siemens) Technology. These IGBT components are switched at thousands of Hertz, which greatly reduces the magnetic flux, and therefore the size of the transformer. Hence, the use of IGBTs allows for a compact and light weight machine such as the LTP5000D to operate at its performance parameters. In simple terms the use of these IGBTs makes it possible for LTP5000D to produce the necessary power, using very little space and creating minimal heat dissipation.

We accept Paypal, Credit cards (Visa/Master/Discover), Money Order or Checks. Please call us by 408-739-2329 if you have any questions. International customers, please contact us for shipping fees.

FREE Fedex shipping with FREE tracking information to 48 states.

Additional Shipping Info:
Priority mail (2 to 3 days) is 39 dollars
FREE tracking information
Canada Fedex Ground: $39
Canada Priority Mail Shipping: $79
International Priority mail (to European countries and Mexico, Brazil): $120
International Priority mail (to Australia): $160
We try our best to ship the item within 24 hours after payment is received (most of time same day shipping)
Fedex does not ship to PO Box, you have to use priority mail to ship this big package to your PO box
WARRANTY, SERVICE and PARTS
We consistently maintain a large inventory of consumables packages(electrodes, tips, cups, shields, etc.) which are available to our customers.
Please feel free to contact us during normal business hours at (408) 739-2329 or via email at lotosteck@gmail.com.
A 1 year Limited Manufacturer's Warranty is furnished with this product. This limited warranty covers both PARTS and LABOR at any Lotos operated by Zion International Inc certified repair service center. In the event of product failure or malfunction, the recommendations shall render the limited warranty void. This limited warranty specifically excludes any consequential and/or incidental damages. Lotos Technology has a complete dedicated service center for its line of welding and plasma cutting products. Our service center is equipped with state of the art technology which accommodates proper service and maintenance of these units.
extra 3 years warranty is optional to purchase while checking out.
Very Useful Kits for this LTP5000D.
@1996-2012 Lotos Inc. "Lotos, your affordable Power solution" ®